Long Code SMS Services - Two Way Communication
SMS Long Code which is also known as 10 Digit Virtual Mobile Number (VMN) is basically a mobile number hosted on a server to receive SMS's and process them based on the keywords which users subscribed for. It is highly productive to engage the user into a rapid and cost-effective multi directional communication as its almost free to use for the end user.
These 10 Digit Long Code Numbers are accessible globally and are not restricted to the networks within India. Moreover, long codes are charged as per the regular SMS rates of the user unlike short codes which are priced at a premium rate. Longcode SMS Services enables 2 way communication between an Orgainisation and their Users/clients and widely used in events such as Reality Show Voting, Customers Feedback, Lead Generation, Online Subscriptions, Examination Results & Entertainment Verticals.

Long Code Service Details:
Your Own Keyword on our Fancy long Code - 7667-222-333
Unlimited Sub Keywords
Unlimited Incoming SMS
Free Email Forwarding
Inbuilt SMS Forwarding
Real Time URL Forwarding
Customizable Auto Reply SMS
Web based control panel to manage everything
Direct Connectivity with SMSC for instant receiving
Estimated SMS Receiving & Processing Time: ~10 Seconds
Instant Detailed Reports including Date & time of sms received
Free API Integration with sample files to integrate with your application

Live Demo:
Message: DEMO
Send To: 7667-222-333
You will get a confirmation SMS within approx. 20 Seconds
Pricing:
Sample API for URL Forwarding
Syntax: www.YourDomain.com/page.php?from=from&message=message
Sample URL post: www.YourDomain.com/page.php?from=919900099000&message=DEMO Hello
        All SMS to our Long Code with your Keyword can be forwarded to your URL as mentioned above, using which you can save the messages & mobile numbers into your database & process accordingly.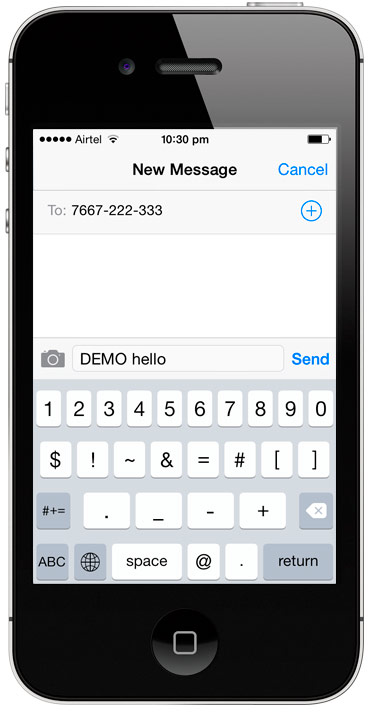 Call us on +91 8870-522-522 (or) email us for more details. You can also type "CALLBACK" and send it to 7667-222-333 to get a callback from our sales team within minutes.